media:scape kiosk is a high definition videoconferencing setting optimized for one or two people.
What if you could remove the barriers to innovation?  Media:scape family is a range of integrated furniture and media solutions. It is designed to help people connect and collaborate, quickly and seamlessly.
Click here to learn how media:scape can foster collaboration and increase innovation.
---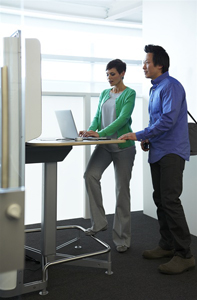 media:scape kiosk is tailored to meet the needs of small group collaboration, rather than the needs of large group video collaboration. media:scape kiosk can support casual, quick informative conversations in the open plan, or evaluative working sessions in a small enclave. It was designed with key factors, such as lighting, sightlines and acoustics, in mind.
Camera placement creates optimal sight lines and framing
for users.
The worksurface can accommodate one to two laptops.
It is available in seated- and standing-height.
The consistent and simple user interface of the media:scape
PUCK allows easy sharing of content.
Foot rail on standing height provides comfort while standing.


---

How it works

media:scape was designed for a "walk-up and connect" experience. Open. Connect. Share.

• Open the media well and remove a Puck™
• Connect the Puck to your laptop
• Share what's on your laptop by pressing the Puck™

Your team members can do the same. Sharing made simple, quick and seamless … to increase productivity and innovation.

---

For detailed information about this product, visit Steelcase.com.