Join Us: Between Two Cranes
Please join us for a special evening of new educational trends and a review of upcoming education municipal bonds in local Bay Area school districts, presented by The Care Group. The special guests of the night include Mr. Jose Nunez, Vice Chancellor of Operations San Mateo Community College District, and Dr. Sadiq Ikharo, Vice Chancellor of Peralta Community College District, moderated by our very own Trevor Croghan, General Manager of Learning Environments, Healthcare & Government.
Click here to find out more information about the event and how to sign up!
---
Active 8th Graders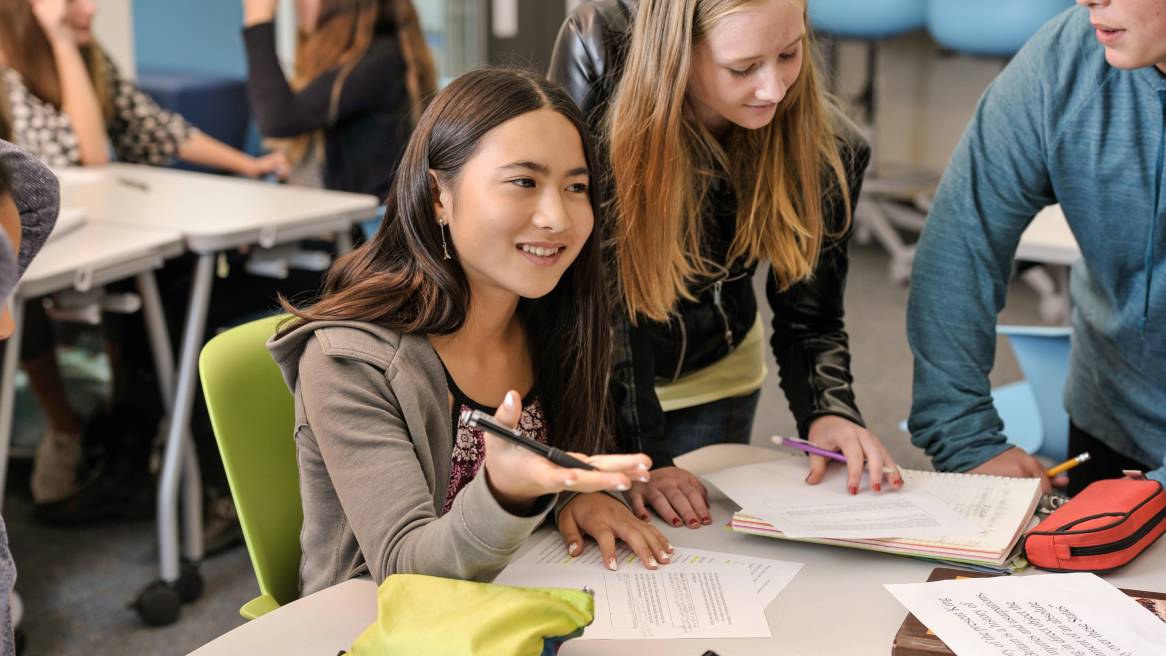 "I've talked to many people from others schools and districts, and it's tough for people to get off the ground with active learning," says Valerie Pitts, superintendent of the Larkspur-Corte Madera school district in northern California.
"They might buy the furniture but don't have the facility, or they don't want to spend a lot of money on a facility if teachers aren't ready for active learning."
Click here to read about how a classroom renovation helped propel the administration and faculty to embrace active learning.
---
ieSonoma 2017
What would happen if we thought about the future of education from a generational perspective, instead of focusing on the now and year-to-year? How might that perspective change if we consider the differences between learning, education, and school? Read more about what we learned from the brilliant Sir Ken Robinson on creativity and innovation in education.
---
Join Trevor Croghan from One Workplace at EDspaces 2017
EDspaces is the premier event for the educational facilities marketplace and the gathering place for architects, dealers, Pre–K – 12, colleges, universities, independent manufacturer representatives, exhibitors, and corporations to learn about trends and experience the latest products and services to enhance student learning.
Click here to read about One Workplace's involvement!
---
The Importance of Designing for Inclusion in Education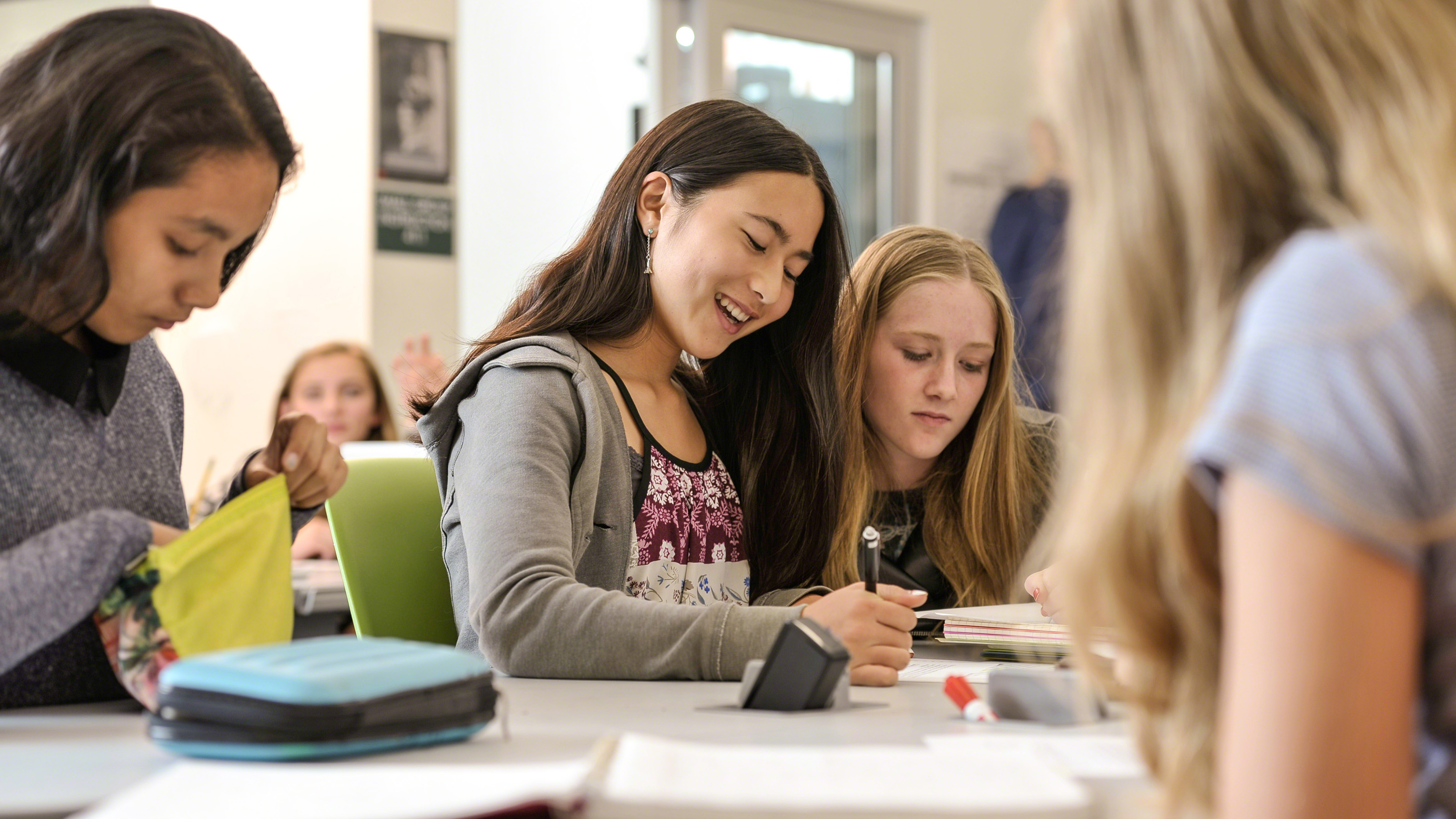 What might happen if examples of inclusion were more visible throughout a child's education? What are the differences between equality and equity? The One Workplace team recently explored these questions at the IIDA Design Forum where we learned more about the impact of inclusivity in design.
---
Lessons Learned from an Outsider: an Ode to Project Based Learning
What happens when students become active learners, teachers lose the pressure to "perform" in the classroom, and the learning environment fosters collaboration? They dive in with audacity and fearlessness.
Click here to read how I found this out first hand when I recently taught an AutoCAD class at Girls Garage in Berkeley, CA.
---
Developing a Better Future: Sustainable Development Goals for 2030
In September 2015, over 150 world leaders came together with the mission of ending the negative impacts of poverty, inequality, injustice, and climate change worldwide by the year 2030. At the Rio+20 United Nations Conference, 17 goals, formally known as the Sustainable Development Goals (or Global Goals) were established by a Working Group of over sixty members of the United Nations. Click here to read about why these goals matter to us.
---
Improv & An Innovative Mindset
When someone says the word "Improv" aloud, most people turn to run in the opposite direction. The word alone sounds scary. We imagine stand-up comics, fast thinking and witty conversations, and the fear of performing in front of large audiences. For the attendees of our "Improv and an Innovative Mindset" event hosted a few weeks ago, these hesitant feelings were definitely at the front of their minds. Thankfully, however, they were quickly dispelled. This was an event designed to denounce preconceived notions about improv and to try and re-introduce the concept in a brand new light. We wanted to introduce improv as a tool that teachers can use in their classrooms – to better engage students and foster creativity and compassion. That evening our participants discovered personal insights into a whole new mindset that they didn't even know existed.
Read more about our Improv & An Innovative Mindset event!
---
The Power of "In-Between" Spaces
The classroom environment can create a powerful experience that shapes a student's learning and allows them to better engage in their curriculum.  Recently, the idea of where and how learning happens has slowly started to shift from the perception that learning is confined to the classroom into a belief that learning can happen anywhere. As schools have begun to change their thinking, they have also realized that they themselves have only just begun learning how and where students learn on campus and how the physical environment and furniture can shape behaviors and outcomes.
Read more about "in-between" spaces & their impact on student learning.
---
Collaborative Learning Environments: a Partnership with Project Frog
We are very excited to announce the launch of "Collaborative Learning Environments" from One Workplace and Project Frog. This is an adaptive guide to creating your school's STE(A)M & Makerspace.
Click here to read about our exciting collaboration!
---
How Empathy Can Help You Hack a Better Workplace
The unlikely location of my first workplace was a dark crawlspace underneath a neighbor's house. This is where I first learned the value of hard work, the joy of helping others, and the many other life lessons that a father can teach a son while holding a blowtorch.
This place and the many others like it — places where I would help my dad replace rusty hot water heaters or make emergency plumbing repairs — were also where all of my expectations for the workplace would be formed. My experience at every subsequent summer job, college internship, or corporate office position would be measured by my experiences installing plumbing lines and fixing cars. What I learned from those early work experiences was that I preferred work where I had autonomy. I wanted a workplace where I could physically engage in my space with room to move around and choose the right place, time, and way to do a task.
Read more of this article by clicking here.
Your employees' needs will change, and with it so should their space. Tweet This Quote 
How to Stop Designing for Yourself and Start Solving Real Problems
I have always considered my creative ability to be one of my biggest assets. What I did not realize for much of my career, however, was that my creative instincts were possibly the biggest obstacle to my ability to solve big challenges.
Coming to that realization changed everything and made me a far more successful designer. What I discovered was that solving problems is not like creating art. It's less about expressing what is inside ourselves, and more about discovering what we can do for others. I had to learn to see beyond my own desires, agendas, and biases, and to open myself up to the needs of the people I was trying to help.
Killing Off Precious Ideas
Click here to read more of this article.
---
Girls Garage
Close your eyes and imagine that you are attending a shop class and were being taught how to weld. Welding is a mechanical, hands on, knowledge based activity. You need to pay close and careful attention to your teacher as they describe the methods used while welding. After the teacher skillfully shows you how to complete a perfect stringer bead weld, and all of the safety measures you need to take, they hand you the welder. It's your turn and so the teacher asks you to try.
Open your eyes. Who was your teacher? Was the person whom you imagined a woman? How about a 9 year old girl? The answer is most likely, "no", which is precisely why our good friend Emily Pilloton founded Girls Garage – to break gender gaps and bust through stereotypes that girls don't 'make' or 'build'.
Click here to learn more about our exciting partnership & involvement with Girls Garage.
---
21st Century Education Buzz Words
Are you an educator? Maybe you're a designer or a parent. Or maybe you're interested in becoming one of those professions one day. In any of these roles, you've probably heard what seems like a thousand different buzz words and educational pedagogies that describe 21st century learning. Problem based learning, makerspaces, and active learning are just a few of these terms that are being used every day to describe the 21st century educational model.
Click here to learn more about all of the 21st Century Education Buzz Words and why they're important to our children's education.
---
Teachers Guild Update
The Teachers Guild is going strong with their collaborations and discovering solutions to some challenges in the classroom! Our Learning Environments team is excited to announce that one of our ideas was selected as one of their 11 favorite ideas for the most recent collaboration.
Click here to read more about this exciting tool all of you educators can use in your classrooms!
---
reMAKE Education Summit 2016
One Workplace was thrilled to be a sponsor and presenter at the very first reMAKE Education Summit, hosted in the new 180 Studios community makerspace in Santa Rosa this past week. The three day event was filled with making, tinkering, presentations, and classes all focused on providing educators with tools to bring making into their classrooms. The event was organized by Dan Blake and his dedicated team at Sonoma County Office of Education and featured an impressive keynote list including Carl Bass, CEO of Autodesk and Dale Dougherty, the founder and CEO of Maker Media.
Read more about our workshop with reMAKE education attendees.
---
Project Literacy Lab 
At our core, @OWPLearn is about education. We are passionate about creating and enhancing learning environments so that students and teachers thrive in a way above and beyond the expected model. We ask ourselves and our clients, "What might education look like for your circumstances?" We strive to identify problems with our clients and work together to solve these issues with some of the most innovative and unique solutions. We like to think about and approach problems in a different way. This is why we are ardent about Project Literacy Lab and the fight to end illiteracy–the biggest inhibitor of our passion, education.
Click here to read more about the 16 ventures of Project Literacy Lab.
---
National Week of Making 
We loved helping to spread the word of the National Week of Making (June 17 – June 23, 2016). Join us in continuing to celebrate the makers around the nation-big or small, young or old, community lead or independently lead. The White House hosted (with a group of powerful maker organizations) their first Maker Faire in 2014 to celebrate all the tinkerers, doers, builders, and innovators around the nation. This year's Maker Faire in Washington D.C. was June 18-19. Click here to learn more about this year's event.
Read More About The National Week of Making 
---
Chris Good invited to join Project Literacy Lab as a Program Mentor
There are 757 million people in the world who cannot read. This is a big, BIG problem and some of the various issues that people with illiteracy are more likely to be affected by is shown in this video, here. Pearson and Unreasonable Group share a belief that entrepreneurs are best positioned to come up with the new models and breakthrough technologies needed to close the global literacy gap. This is where Project Literacy Lab comes into focus. Leveraging the Project Literacy platform, Pearson and Unreasonable have co-founded a new initiative to wrap resources around the fastest growing ventures worldwide-each positioned to uniquely solve key challenges tied to illiteracy.
Read More About Project Literacy Here.
---
Re-imagining High School: Cloverdale 2.0

The Learning Environments team at One Workplace has been deeply committed to creating learning spaces that foster a more active form of learning – developing learning spaces that promote open-ended, student-driven exploration.  Upon the initial launch of XQ: The Super School Project, our team was asked to join a highly motivated and dedicated team of educators, administrators, students, and community members from the Sonoma County Office of Education to help them re-imagine the learning experience at Cloverdale High school.
Fifteen key insights were explored in our re-imagining of the high school experience – and were instrumental in our team being selected as Semi-Finalists in the XQ project.
Read more about the 15 insights that led to Cloverdale 2.0, and stay tuned for the Finalist announcements July 20th!
---
Creating The "Write" Space for Redwood High

We have learned that the classroom can be deeply impacted by having access to the right space. This is in part because the right space can ensure that students have a quiet place to focus, an active place to collaborate, or an ergonomic and comfortable place to work. Even more important however are our insights on how the wrong space can create barriers to learning.  Back in December of 2015 we shared a story with you titled Students Lead the Way to Innovation at Redwood High. In this blog post we shared how the Editors-in-Chief of the "Redwood Bark" school paper collaborated on creating a solution to change the dynamic of their classroom conditions. Running a school newspaper in a classroom that limited their ability to thrive creatively and work together collaboratively was becoming a challenge.
---
Our Favorite Articles on Successful Trends in the Classroom 
The dynamics in today's classrooms are ever changing. Educators are now, more than ever, challenged with staying current with these changes and considering new and innovative approaches in their own classrooms.
Here at One Workplace Learning Environments we believe in helping to share the amazing stories, ideas, and approaches that we find in the hopes of helping teachers and ultimately their students find success. We came across a couple of good articles which highlight recent trends that are successful impacting the classroom today. Check them out here.
---
Adopting a "Maker Mindset" into the formality of a classroom can sometimes present a long list of unknowns and questions. Where do we begin? Why is my classroom the right place? What does assessment look like? Who is out there to help?
In working to help answer those questions One Workplace has partnered with Mirus Labs to help create a Makerspace Inspiration Guide. A short guide to the Why, How, and What of Maker Education, with resources and examples that you can apply in your own classroom.
Click here to read more and download our Makerspace Inspiration Guide.
---
Join Christopher Good and Brandon Thomas from One Workplace at NeoCon 2016
The commercial design industry's most important 3 days of the year are centered on NeoCon. The most attended trade show in the industry, NeoCon brings together over 50,000 design professionals from across the globe in the hopes of growing their businesses, learning from their peers, and making new connections. Launching thousands of new products each year, the show also features a multitude of keynote speakers, seminars and presentations. We are ecstatic that our very own Christopher Good and Brandon Thomas will be leading their very own presentation this year at NeoCon.
Click here to get more details about how to register for NeoCon 2016
---
Bodies in Motion, Brains in Motion
In late February over 40+ educators joined One Workplace and V/S America in our Oakland Active Learning Center for a presentation that focused on the importance of designing and renovating schools that will encourage movement through ergonomic furniture, facility and curriculum design. Dr. Dieter Breithecker, a German Health and Kinetics Scientist and Europe's leading expert on school ergonomics lead the presentation. The objective behind hosting this event was for us to bring awareness and understanding as to why ergonomics is significant to productivity in both the workplace and in school
"Successful learning must engage the body, the mind, and the soul." – Dr. Dieter Breithecker
Click here to read more about Dr. Briethecker's research and for insights into how we can encourage more movement in the classroom.
---
Share your ideas with First Lady Michelle Obama

If you could share any idea with the First Lady about how we might support students on their path after high school, what would it be? Now is your chance to share those ideas!
One Workplace is excited to invite you to help us and our partners at The Teachers Guild in exploring how we can help students on their way to and through college. This is your chance to brainstorm with us and to share your thoughts, stories, and ideas.
---
Join One Workplace and the First Lady to Help Students Reach Higher
We are excited and honored to share the our latest collaboration – a partnership with the Office of the First Lady and The Teachers Guild. One Workplace will be joining a world class group of innovators and educators who are committed to re-imagining learning and education.  Most importantly we are cordially inviting you to join us in working to answer the question:
How might we create programs, processes, and tools to provide ongoing support to all students on their journey to and through college? 
Click here to learn how you can join us!
---
Students Lead the Way to Innovation.
Working with One Workplace a team of students at Redwood High School identified challenges within their existing journalism classroom and completely re-envision how their space should look and function. Most importantly, they took their ideas to the district school board to find the funding and approval to make this vision a reality. Learn more about this inspired group of students and how they led the way in bringing a new learning space to their school paper.
Click here to read more about the student editors of Redwood Bark!
---
Disney Magic Brings Design Thinking and Making to Any Classroom.
As the Maker Movement has begun to gain traction in schools, it has also commonly found itself relegated to live in quarantined spaces in the back of a library, or explored via prescriptive projects and pre-packaged kits.
Making, problem solving, and tinkering have the opportunity to impact learning in game-changing ways across all subject matter – but what does that kind of learning look like – and how can we adopt it into our lesson plans?
At the California Education Research Association's (CERA) annual meeting at the Disneyland Resort – One Workplace employed a little Disney magic by hosting a workshop to explore applying tactile learning across all curriculum.
Click here to read more and learn how making and learning can impact any classroom!
---
 Reimagining Professional Learning
In late September One Workplace partnered with the Sonoma County office of Education and the Teachers Guild – an offshoot of the design firm IDEO, to begin helping educators to reimagine professional learning for teachers.
After an initial kick-off event in Santa Rosa, a global team of educators and designers will embark on a more than six month collaborative process guided by the Design Thinking process. Subsequent collaborations will take place by way of a mix of online and in-person workshops and discovery exercises.
The initial phase of these explorations have already begun via a web portal where educators and designers from all over the world have submitted their perspective, research, and experiences.
Click here to read more and learn how you can lend your voice to solving this challenge!
---
 The Maker Movement
Nearly one hundred leaders in education and design gathered in Oakland for a full day of maker activities, presentations, and hands-on fun. Headlined by acclaimed educators Emily Pilloton and Victor Diaz, the day's events revolved around sharing inspiring stories and creating first-hand experiences. Emily and Victor shared the driving forces behind their mission, their passion for teaching, and the importance of Maker education. A series of energetic workshops followed where maker educators from Sonoma County Office of Education, Calculus Roundtable, Autodesk Project Ignite, and Personalize Learning led attendees through the exploration of eight different hands-on activities. From launching compressed air rockets to building LED flashlights, everyone involved spent their day laughing, smiling, and connecting in ways which underline the true value of the Maker Movement.
Click here to view the Full Blog Post and watch the Video.
---
Adapting Resources for Active Learning
How do we adapt existing resources for active learning environments? This challenge was posed to a forward thinking group of educators, administrators, architects, and designers at a workshop in July of 2015. Led by One Workplace and the architecture firm Dougherty+Dougherty, this team of seventeen education leaders was engaged to create new ideas and potential solutions for adapting existing resources into active learning spaces.
Click here to read the Full Blog Post and download the Free White Paper.
e
---
 "The Future is Now" with SFUSD
This has been an amazing year for One Workplace and the San Francisco Unified School District. We have worked together to bring students back into the Bayview neighborhood with the opening of the new Willie Brown Middle School and helped SFUSD and IDEO completely reinvent the school food system ensuring that kids have access to good food within a student centered and financially stable approach.  Our team worked closely with the school district and IDEO to create a pilot program at Roosevelt Middle School, which then successfully rolled out to Thurgood Marshall Academic High school and others soon to follow.
Click here to read the Full Blog Post.
---
 Turning the Classroom Around
Heading into the start of this school year – one elementary school classroom in northern California took advantage of a chance to turn their classroom around. Students in Mrs. Caitlin Dyers 4th Grade class were given a unique opportunity to take control of their own space and in short order started seeing dramatic results. In just a few short weeks Mrs. Dyer's students had begun performing better, with distinct increases in attention, engagement, and collaboration with their peers.
In a partnership with One Workplace, this classroom was outfitted with a select grouping of active learning tools and mobile furniture options.  "These new additions to our room have changed our physical learning environment, increased flexibility in being able to accommodate all types of learners, and has increased and transformed how we can collaborate, interact, and engage in
learning" Mrs. Dyer explains. Click here to read the Full Blog Post.
---
How Might We?
Earlier this year One Workplace and Project Frog held an interactive event for educators, administrators, architects, designers, and everyone impacted by learning spaces. The event was a huge success attracting nearly fifty people to our Oakland Center for Active Learning. The focus – exploring the design thinking process and how it can help shape our understanding of problems and identify innovative solutions to challenges.
Click here to read the Full Blog Post.
---
Personalizing Education
Over the last several years there has been a growing awareness that not all students learn in the same way. As teachers, curriculum and classrooms have adapted to reflect different ways of learning, educators have struggled to attach a name and method of delivery to this new tailored approach.
Terminology such as Differentiation, Individualization, and Personalization, have been used to describe this change, but what do they mean? The seemingly interchangeable nature of these terms creates uncertainty among educators and concerned parents.
Recently our Learning Environments team had the opportunity to visit with Barbara Bray, co-author of Make Learning Personal. Bray provided great insight into the differences between these approaches and how each can have a unique and specific impact on the classroom—when applied with the right understanding.
Click here to read the Full Blog Post.